Time passes by but the regulatory uncertainty in the US market shows no sign of ending.
Keller and Heckman, the respected US legal firm, ran its 'E-Vapor and Tobacco Law symposium' in Irvine, California last week to try to make sense of the current situation. We were delighted to be invited to attend and present at this prestigious event in what turned out to be a great learning opportunity not only covering the US regulatory landscape but contrasting this to what is happening in the EU – more on that later.
First observations were that Keller and Heckman had chosen the perfect venue. With blue skies, uncongested roads and great conference facilities it was a pleasure to be on this particular trip.
Day 1
Day 1 opened with Azim Chowdhury, Partner at Keller and Heckman. giving an excellent presentation summarising the historical and current regulatory picture in the US. Azim managed to simplify the regulatory landscape making reference to the extended FDA full PMTA submission deadlines for Electronic Nicotine Delivery System (ENDS) products (now August 8th 2022) but also highlighting the fact that requirements to test for harmful and potentially harmful constituents (HPHC's) remains at November 2019. If this does not change it will be a race against time for ENDS companies to complete this task to remain in the market.
Amy Madl and Autumn Bernal from Cardno Chemrisk did a great job of simplifying the principles of PMTA, breaking the requirements down to three categories – What is in your product? How safe is it? What reaches the consumer? These are key questions that FDA expects applicants to address along with the all-important topics of dual use (vape and smoke), third party exposure and the likelihood of non-users (often kids) initiating use.
Dean Cirotta from EAS gave an interesting presentation on how FDA Good Manufacturing Practice (cGMP) regulations may influence the ENDS market. As a GMP analytical laboratory we know all too well the benefits of robust GMP practices – procedures, documentation and training, and how they contribute to product quality.
Day 1 ended with an enjoyable networking event – a great opportunity to further discuss challenges with industry colleagues.
Day 2
Day 2 started with an update on the Deeming lawsuit. The ENDS industry continues to fight the case that the so-called 'Grandfather date' (the date when ENDS products on the market require a PMTA) should be moved from February 15th 2007 to August 8th 2016. This would allow many of the current products to remain on the market without the cost of a PMTA. However, it would not address the issue that the current regulations are stifling innovation. This point is so important – ENDS products need time to be further developed to optimise nicotine delivery. The result of better nicotine delivery will be more smokers shifting to vaping. Surely this has to be a good thing?
The event then shifted course to international markets. Marcus Nevin-Jones from Keller and Heckman's Brussels office gave an overview of the EU TPD regulations – chalk and cheese when compared with those in the US. The US is yearning for a similar regulatory landscape and although the FDA does seem to be softening its stance via its 'continuum of risk' comments, it is highly unlikely that they will adopt such an approach. However, let's all 'watch this space'.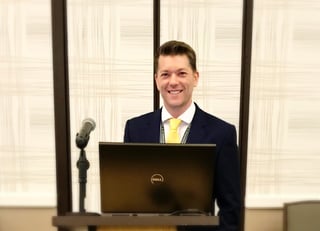 Chris Allen, Managing Director of Broughton, was next to present. Chris gave a clear overview of the EU regulatory landscape. Chris also highlighted the latest thinking in the UK and referred to the recent Public Health England statement encouraging the ENDS industry to consider the Medicinal Product route. This must be a fabulous option for any US ENDS company to consider. The UK is desperate for a product that can be prescribed by General Practitioners and available in pharmacies to be marketed as a reduced risk product. This gap in the market offers significant revenue and image upsides to any ENDS company. It is also a far more cost-effective option for US companies when compared to the cost of a PMTA – Food for thought!
The event ended with a number of presentations on local US laws. It was particularly interesting to learn about the California Proposition 65 law.
Overall, the Keller and Heckman event was a fantastic event to be involved in. Thank you to Azim, Marcus, Sara and the team for allowing us to be involved. At Broughton we are delighted to be contributing to industry latest thinking. We are committed to supporting the ENDS industry in its quest to help save lives and it gives us great pride to be involved in this journey.