On the 20thMay 2016 the Tobacco and Related Products Regulations implemented the TPD (Tobacco Products Directive). This regulation set out the requirements for nicotine-containing e-cigarettes and refill containers (e-liquids).
The TPD introduced new rules to ensure:
There is a minimum standard for the safety and quality of e-cigarettes and e-liquids.
The availability of information for the customer so that they can make an informed decision.
Fostering an environment that looks to discourage children from starting to use these products.
With the sell through period coming to an end on 19thMay 2017, failure to meet these requirements has consequences for retailers and producers.
Retailer
As a retailer, you do not need to submit information for any products you sell, unless you qualify as a producer. You have until 19th May 2017 to sell any stock of products that do not comply with the labelling and product composition requirements of the TPD. After this date, it is your responsibility to ensure any new products you purchase are compliant with the TPD. The MHRA will publish a link to a web page where you can check all products which are compliant.
Producers
The regulations define a producer as:
"anyone who manufactures or imports these products or who re-brands any product as their own"
If you are a producer, you are required to submit information about your products to the MHRA through the EU-CEG (European Common Entry Gate) notification portal.
The MHRA has uploaded the first products which have been submitted. However, they are keen to stress they have not checked each notification for completeness or that these products are TPD compliant.
Here is a snapshot of what it currently looks like: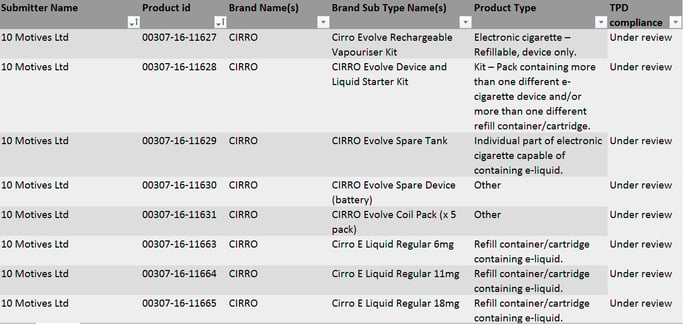 Have you made your submission?
If not, with the final deadline of 19th
May 2017 looming there is still time to act.

At Broughton we have completed emissions & e-liquid testing for over 5,000 TPD notifications. Do you need help in testing your products before next month's deadline? Or do you need more information on the TPD regulations?